Unless you are a heavy follower of the UK domestic scene, or have attended one of his fights, you will best know Mike 'The Warrior' Wilkinson for being on TUF: Smashes series, which is still currently ongoing. He hasn't fought on the series yet, but he will be fighting in the next episode.
25 year old Wilkinson is a Lightweight fighter, fighting out of ASW: Atherton Submission Wrestling and has a record of 7-0. We managed to grab a few words with him about life inside the house, what it was like living with the Freakshow and how good a coach Ross Pearson is.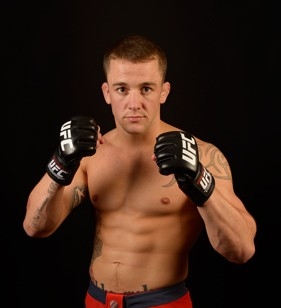 You're in the TUF smashes house, you're yet to fight at the moment on there, how was it living so far away from family etc with no way of communicating with them?
"Training all the time took your mind off home and only at night time when you looked at pictures of loved one's was when you realised how much you missed them, but at the same time gave you that drive to train hard."
You were in there with fellow UK fighters; did you know any of them previous to the show? If no, did it make it easier the fact they were from the UK?
"I did not know any of them but had heard of them. All of them being sound lads made it easier and enjoyable, and we always had a laugh."
There are some characters in the house, like Freakshow, what was it like living with him on a daily basis?
"Living with the Freakshow was good because he was always doing something different and kept us all entertained."
From the way it's portrayed on the TV, I would say, that you are the quiet one of the house, would you agree?
"Being in the house I was constantly in fight mode so training and preparing for my fights was my main priority. I am definitely not a quiet person."
The Aussies didn't seem up for a fun time as much as the UK guys, why do you think that was?
"The Aussies were boring and about as funny as George Sotiropoulos."
A lot of losses from the UK guys came after being on top initially in the fight, why do you think that was?
"Obviously not being that person, I cannot answer for them but in MMA anything can happen at any given time, that is why it's so exciting."
You had Ross Pearson as a coach, what did you think of him and his techniques?
"Ross is a top coach and his ways of training were good, with him being in our situation on The Ultimate Fighter UK vs USA, he was able to talk to us and mentally prepare us for what was ahead."
The other coach was George Sotiropolous, who was trying some dirty tactics saying some of you can go train with his team, do you think any of his mind games were working, or was he just a laughing stock?
"No disrespect to George, but his ways of handling situations and speaking to people didn't show him in his best light."
Lastly, why do you fight? What motivates you?
"I fight because I want to be the best in the world and to prove that ANYONE can pursue their dreams if they have the desire. Also I want to make my family and ASW proud."
Any people to thank?
"I would like to thank my coaches Daren Morris, Jack Mountford, good friend and team mate Chris Hoban, all the lads down at ASW , Barry Edwards down at Extreme Strength and Conditioning, Stu Mcculloch at Astley V.I.P and lastly my parents."