Karlos 'The Terminator' Vemola fights out of London Shootfighters and is now 9-3 (2-3 UFC). After dominating the UK domestic scene at heavyweight with his sheer power, he lost his heavyweight debut in the UFC, eventually dropping to light-heavyweight. Eventually the time came when Vemola dropped to middleweight, which seemed crazy if you were following him in his domestic heavyweight days, as the size of the man made it seem impossible to make 185lbs.
On the 29th December, at UFC 155, Karlos Vemola takes on Chris Leben, in what will be an utter barnstormer. Leben will be going in as the heavy favourite, but Vemola is ready and focussed on this opportunity that has presented itself. We managed to catch up with Karlos ahead of his big MGM Grand showdown and here's what he had to say;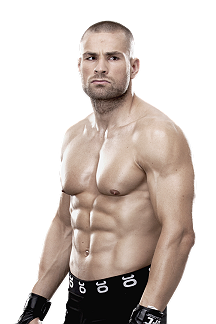 Last time we spoke, it was before the fight with Mike Massenzio, which ended with a win for you via RNC, do you remember much about that fight?
"Yes, it was in his home town and he came out strong in the first round but I felt confident and was able to impose myself in the second round and get a good submission"
Unfortunately in your last fight, you took on Francis Carmont, and in my opinion was doing pretty well until he got the RNC, how would assess what happened? 
"I totally agree – it was a good first round for me and I showed everyone I had a solid chin when he caught me. I felt going into the second round that I definitely had a chance of winning as I felt strong but I made a mistake and that let him in – he is a good strong fighter and I feel that I learnt a lot in that fight and even though I lost I felt comfortable."
You are now taking on a big name, a legend of the UFC, Chris Leben, in his 20th appearance in the octagon, how do you feel taking on such a well known, respected guy?
"Absolutely delighted and I cannot wait for the fight. I have had a long time to prepare and get ready. I have not had some of the illnesses I have suffered from in recent times so I hope to deliver my best performance yet against a truly great fighter. The fight is at the MGM Grand where it all started for me in the UFC as a heavyweight and I always wanted to go back and put on a real performance for the fans as I was overcome with nerves on that first outing. The good news is that I will not have to go looking for Chris he will be right in front of me so we can go toe to toe and the one who wants it more will no doubt win. I am sure his team are looking at this as his easy comeback fight but they will be in for a big shock."
Would you agree that this is the biggest named fighter that you have ever fought?
"Without a doubt a true legend and it is an honour to fight and beat him."
Do you think that by taking this fight, you have solidified yourself as a top middleweight?
"I need to win a big fight like this or the Francis fight – then I need to follow it up with a couple more wins so then I can try and stake a claim in the top ten – that is my goal. A rematch one day with Carmont would be good as well."
You are both coming off of a loss, so you think this will influence the fight in any way?
"No, we both only know one way to fight and that's to bring it on."
He is well known for his chin, it takes allot to finish him, do you think you will finish him, or will it go the distance?
"I respect his chin and his all round game but I will be too young, quick and strong for him and no matter how strong his chin is, once I am on top you are in trouble"
Who else would you love to step into the octagon with?
"The fighters I respect the most are Michael Bisping, Anderson Silva, Hector Lombard and in fact any of the top guys would be a dream – I put Chris Leben in that category."
Lastly, why do you fight? What keeps you motivated?
"I have to pay the bills, seriously – I love the whole thrill of it."
Anyone to thank?
"My management at Elite MMA Agency; Chirs Fig and Pan Symeou, my coaches at London Shoot; Paul and Alexis and to Joe Silva for giving me this opportunity."